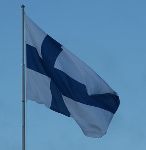 Finland has failed to make the top 10 of a global index showing the well-being of senior citizens in terms of health, income, employment, environment an education. Aside from Denmark, the other Nordic nations are way in front of Finland in terms of how the elderly are looked after.
Finland is listed as 15th of the new global index, with Sweden and Norway occupying positions one and two respectively. Iceland is in ninth position, while Denmark comes in 17th.
Among the reasons Finland has not scored as well as other Nordic nations are the low pensions for elderly women and the low education level of senior citizens. The elderly in Finland were also said to have a less healthy future to look forward to compared to some of the better performing countries.
Other countries that ranked highly included Germany, Switzerland, Austria, the UK and the Netherlands, all of which were said to have better environments for elderly people. According to the index, a more 'enabling' environment worked out by taking safety, access to public transport and social connections with friends and relatives into account.
Global AgeWatch Index ranks 91 countries in what is the first official comparative look at elderly people's wellbeing on a global scale. The research was conducted by HelpAge International, an NGO that aims to support older people in claiming their rights.
The Finnish Minister of Health and Social Services was unavailable for comment on the results.