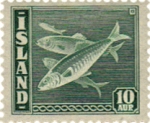 Iceland's head negotiator over mackerel quotas Sigurgeir Þórgeirsson has described talks on the dispute as constructive. He gave little away about a meeting that was held between coastal nations on the ongoing issue last week, but said it had been positive.
Sigurgeir explained that the meeting was held in a bid for the coastal states to come to some kind of agreement on mackerel catch levels.
He went on to say that constructive, positive talks were generated that will enable negotiations to continue in the future, emphasising that Iceland will now look forward to the continuation of these negotiations.
Although Sigurgeirwould not give away too many details on what was discussed in the meeting, he said that sanctions against Iceland had not been brought up. He said that Iceland now expects the issue of sanctions will be put on hold so the states involved can focus on constructive negotiations and reach a lasting agreement on mackerel quotas.
The government of Iceland has requested an early meeting between the coastal states (Norway, the Faroe Islands and the EU) in order to propose further talks in a bid to reach an agreement on the ongoing mackerel debate.
The Annual Coastal States Meeting is scheduled to be held in London from 23-25 October.