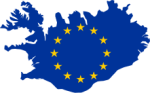 Icelandic Foreign Minister Gunnar Bragi Sveinsson announced last Thursday that the North Atlantic nation had suspended European Union accession discussions indefinitely, on the back of a promise made during the election campaign earlier in 2013.
The Icelandic coalition government, which has been in power since April, campaigned on a promise that would bring an end to talks on Iceland becoming an EU member state. Bragi Sveinsson told parliament that the negotiation teams and task force have been dissolved, and no further summits will be held.
The foreign minister explained that the government is in complete agreement on the matter, and that the process has, as of now, been suspended. However, he went on to say nothing has been shut down and that they plan to improve their communication and create better ties with the union without actually joining.
The general public opinion in Iceland has been against joining the EU, with one of the major obstacles being the issue of fishing quotas.
Brussels and Reykjavik have held talks to try and resolve an ongoing dispute over mackerel, but to date they have been unsuccessful. The EU has threatened Iceland with trade sanctions if it does not lower its quota. The most recent meeting was held on Sunday, but Iceland did not come up with a compromise.