Denmark manager Morten Olsen has told Arsenal frontman Nicklas Bendtner that if he wants to play for his country again he will have to find a new club.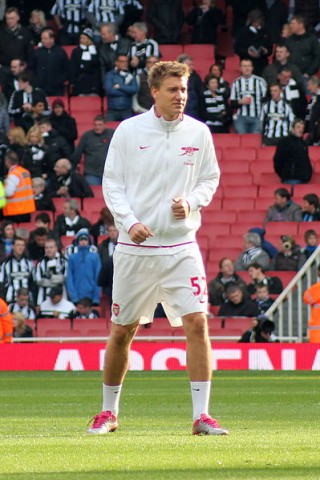 The striker has been told he is free to leave the North London club as manager Arsene Wenger looks to get rid of high earners who are not regular starters. However, Bendtner's huge wage demands have already put clubs off this summer including Eintracht Frankfurt and Malaga.
Premier League newcomers Crystal Palace are the latest club to show an interest, but they say he must accept less money than he wants if he wants to seal the deal. Palace have a wage structure much below the reported £52,000 per week Bendtner is looking for, and may instead look elsewhere if he doesn't lower his demands.
With the Dane continued to be linked with clubs across the continent but moves failing to materialise, national coach Olsen has come out and said he will not be selected for the national team until he finds a new club.
Earlier in the summer, Bendtner, 25, had appeared to indicate that regular football was his priority for the coming season. After spending last year on loan at Juventus, during which he spent much of the time injured or on the bench, he said he'd rather sign for a club just below the top level in order to secure regular football, adding that he is prepared to take one backwards step to take three forward.
It seems as though it may not just be the level of football Bendtner has to drop if he wants someone to take him away from Arsenal.