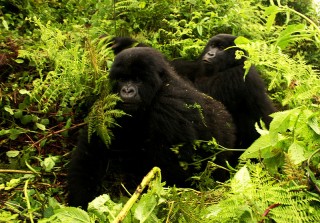 A woman visiting a Swedish zoo received a nasty cut to her forehead after being struck by a stone thrown by a nearby gorilla. The 38-year-old woman was hit by the stone, which was about five centimeters in diameter, when one of the five gorillas at central Sweden's Kolmarden National Park picked it up and hurled it in her direction, according to the zoo's manager Marjorie Castro.
Castro said that the woman appeared to be fine at first apart from a little bleeding from her forehead. However, she explained that as gorillas have such great strength, they made the decision to call an ambulance so she could get checked out. She added that the woman started to feel weak and had to lie down before the ambulance arrived.
The zoo manager said that the gorillas have not thrown things at visitors in the past, apart from lighter objects such as grass.
However, after news broke of the incident, other people who had visited the Kolmarden in the past said they have had similar experiences. One mother said her seven-year-old son had a stone thrown at him by a gorilla last July causing him great anguish.
Kolmarden was also in the news for the wrong reasons last June when a pack of wolves mauled and killed a female member of staff.