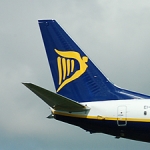 Budget airline Ryanair deleted the black box data after one of its planes had to carry out an emergency airline at Skavsta Airport in 2011, revealed the official report on the incident.
Stefan Christiansson of Statens Haverikommission – the Swedish Accident Investigation Authority – said that although the investigation was able to be completed without the data, there are many occasions where this would not have been the case. He added that it is unfortunate when data disappears.
The report shows that it is likely someone at Ryanair did everything possible to ensure the data never reached the investigators in charge of looking into the incident.
The Boeing 737 plane, which was en route from Skavsta Airport outside Nykoping to Paris with 179 passengers on board in April 2011, suffered electrical failure and was forced to turn round and make an emergency landing. After looking into the incident, the Accident Investigation Authority classed it as 'serious'.
Analysis revealed that the voice recording from the flight data and the cockpit had been erased so the investigation was based on interviews carried out with the pilots after the incident.
However, Ryanair's communications manager Robin Kiely insisted nothing untoward happened. He explained that a technician was able to restart the recording after the electrical failure, but the airline's technical department thought there was no reason to preserve it.