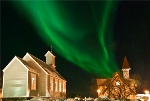 Iceland has been named as one of this year's fastest-growing tourist hot spot in Europe for foreign tourists. According to figures from the European Travel Commission, the North Atlantic nation enjoyed an impressive 30 per cent increase in the number of people visiting from overseas in the second quarter of this year compared to the same three months last year.
Slovakia was also among Europe's strongest performers, experiencing a 20 per cent spike in foreign visitors arriving during the three-month period. Overall, less expensive European regions like Eastern Europe and the Balkans experienced the strongest growth.
Croatia, Latvia and Montenegro all saw growth of nine per cent, while Hungary and Poland welcomed seven per cent more visitors than during the second quarter in 2012. Meanwhile, of the traditionally more visited European destinations, Spain and Germany experienced a four per cent rise.
The increase in visitors arriving in Iceland is no major surprise, with Lonely Planet naming northern Iceland as one of its top European destinations for 2013 earlier in the year. It said the country's natural landscape including lava fields, towering waterfalls and dramatic geysers were among the main reasons for visiting.
Croatia and Hungary were also in the travel guide's top 10 places to visit this year.
Photo: Ólafur Kr. Ólafsson