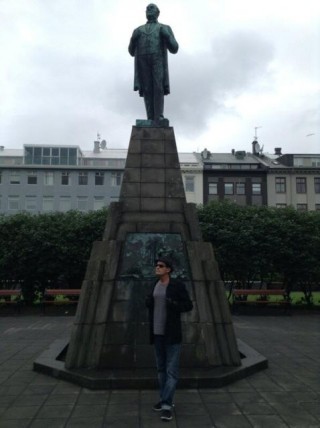 American actor and notorious substance abuser Charlie Sheen was spotted in Iceland yesterday shopping in Kringlan, the largest mall in Reykjavík. This is the actor's second visit to Iceland this year.
Sheen hasn't disclosed the purpose of his visit, but has informed his millions of followers on Twitter of his whereabouts by posting a picture of himself posing next to the statue of Iceland's national hero Jón Sigurðsson, located on Austurvöllur, the Parliament square in the centre of Reykjavík.
The picture, which shows Platoon actor standing next to the pedestal mimicking the posture of Jón Sigurðsson, comes with the caption "Oh, and then I took over Parliament with a pose they couldn't manage." According to news website Mbl.is, Sheen was enjoying a whisky last night at a pub located on the same square.
Charlie Sheen's acting career kicked off in 1986 in the war drama Platoon. Sheen is probably best known for his television career, landing leading roles in popular shows such as Spin City and Two and a Half Men.  
In recent years, it's the actor's lifestyle rather than filmography which has received a lot of media attention. Charlie Sheen is notorious for his off-the-rail antics, although he claims now that he is past all his addictions except his addiction to winning.
Photo: Sheen's Twitter account