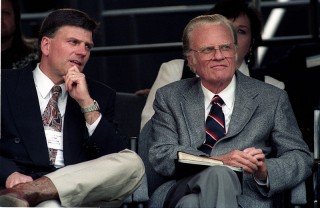 Christian evangelist Franklin Graham could be in for a surprise in Reykjavik next month when he finds very few people at what he believes is a sold out festival.
Angry Icelanders have reserved tickets for his special event in the capital in September, but apparently have no intention of turning up, and Graham could well be left red faced in front of an empty arena.
Tickets for the event went on general sale on 7 August, and word quickly began to spread on social media sites such as Twitter, Facebook and Reddit of a plan to reserve tickets and then fail to turn up for the event. According to protesters, the intention is to leave Graham, who has caused plenty controversy in the past over his views on homosexuality, standing before an empty Laugardalsholl arena.
The evangelist has been lined up as the main speaker at Reykjavik's Festival of Hope, which will be held on 28 and 29 September. However, news of organisers lining him up as the key speaker has not gone down well in Iceland because of his strong views on same-sex marriage.
The outspoken Graham, son of renowned evangelist Billy Graham, is against same-sex marriage and backed an amendment to outlaw it in North Carolina, where he resides. Furthermore, when Barack Obama announced that he supported gay marriage last year, Graham described it as a sad day for America.
Iceland ticketing website Midi.is states that the event is sold out and all available tickets have been reserved.