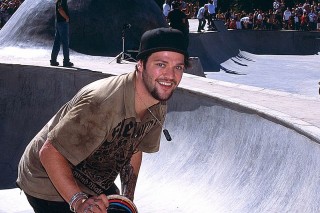 Jackass star Bam Margera has revealed plans to wed in Iceland on his birthday next month. The professional skateboarder and TV joker, whose real name is Brandon Cole Margera, said he will marry fiancée Nicole Boyd in Iceland on 13 September.
He revealed the news on his Twitter feed on Friday, saying that he is "getting married to @nicoleboyd124 on my birthday in Iceland".
This will be the stuntman's second marriage after divorcing Missy Rothstein in 2012.
Some entertainment industry insiders may be surprised at Margera's decision to wed in Iceland, particularly after he was arrested upon arriving in Reykjavik's Keflavik International Airport last month on charges of wrecking a hire car; however, the daredevil has previously spoken of his love for the North Atlantic country.
Margera rented the Toyota Land Cruiser from a Hertz branch when visiting the country in 2012, but staff were not happy with the condition of the vehicle upon its return. He flew out of the country before paying damages, but was arrested when he eventually returned to Iceland on 13 July.
The star, who has now paid the bill, also revealed he will stage a charity bike race in honour of his late friend and fellow Jackass stuntman Ryan Dunn prior to the wedding between 16 and 20 September. Dunn was killed in a car accident in 2011.