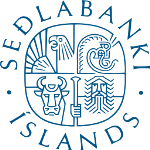 The Central Bank of Iceland Seðlabanki has closed its last remaining vault outside the capital, Reykjavik. The move comes as part of an ongoing Seðlabanki review of how it distributes its banknotes, which saw the bank opt to start gradually closing down its regional vaults in 2003.
The bank explained that it closed down its vaults outside the capital in order to better define the responsibilities and roles of the institutions that distribute banknotes around Iceland.
Seðlabanki chief cashier Stefán Arnarson said the bank sees no negative factors about closing the vaults. He explained that the country's commercial and savings banks already have a well-functioning domestic and distribution system and have been distributing banknotes to their branches for many years. He added that there is minimal risk of regional cash shortages following the closure.
Stefán Arnarson went on to say the central bank is of the opinion that it's the role of the commercial and savings banks to distribute cash to their customers and they are able to do it more securely and efficiently than the Seðlabanki.
Iceland's payment system had a decentralised structure for decades, with the amount of regional vaults reaching an all-time high of 24 in 1980.