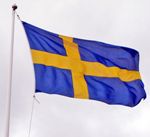 Sweden has been named the second most reputable country in the world, according to a US-based Reputation Institute study. The Reputation Institute published its fourth annual 'top 50 countries list by reputation'. The organisation's Nicolas Georges Trad said in order to gain a strong reputation, a country must manage economic factors as well as social, political and cultural aspects.
He added that balancing these factors gives a country 'personality' and the ability to attract investment, tourists and talent.
Canada came top of the pile for the third successive year, with Sweden jumping from third place last year to second place this time out. Switzerland made up the top three.
European countries make up for 7 of the top 10, which include the other Scandinavian countries, with Norway in 5th position, Denmark in 6th and Finland ranking 8th.
The institute, which has offices in New York and Copenhagen, gathered the data by interviewing approximately 27,000 people in G8 nations between January and March this year. It then made the list based on criteria like size of population or economy, and how the public viewed the country.
Respondents were asked their level of feeling, trust and respect for their respective countries. They were also quizzed about aspects like food, product quality, sports and physical beauty.
Italy, France and Spain were ranked in 16th, 17th and 18th place respectively, while the US was listed 22nd. The bottom four places were filled by Pakistan, Iran, Iraq and Nigeria.