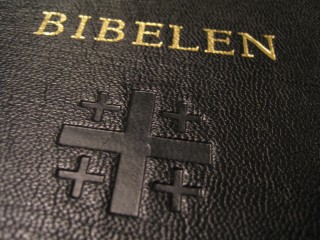 The Bible published in the Norwegian language has been named the country's bestselling book of 2012.
The Bible, which has sold close to 160,000 copies, claimed the number one spot ahead of Fifty Shades of Grey.
The Norwegian Bible Society released a statement saying that the Bible is the world's highest-selling, most read and most important book, and therefore "the Word of God" will be presented to people in the language they speak at an affordable price.
There have been a number of reasons suggested as to why the Bible has climbed to the highest-selling book in what is renowned as one of the most secular countries in Europe, and is home to only five million people. One claim is that the Bible Society used clever ploys to attract youths by marketing it like a pop fiction story.
Another reason is, according to Norway Bible Society's Anne Veiteberg, that a rise in immigration to the country has played a part. Over the past six years, some 258,000 immigrants have arrived, with 60 per cent of them being Christians. However, as more people of other faiths, such as Muslims, Hindus and Buddhists arrive, Veiteberg says Norwegians are becoming more interested in following the country's traditional faith.
Just one per cent of Norwegians regularly attend church, but social anthropologist Thorgeir Kolshus said that church attendance is not the best way to identify the country's state of faith as many people consider religion a private thing. The Norwegian Monitoring Survey in 2010 showed that 43 per cent of respondents said they believed in God.