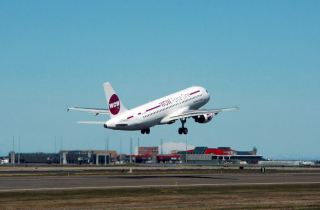 WOW air, Iceland's only budget airline, celebrated its one-year anniversary of offering flights to Iceland last Friday.
The airline first began its operations on 31st May 2012 with its inaugural flight to Paris, France.
Over the past year, WOW air has expanded its flight destinations to fifteen cities: Reykjavík, London, Paris, Copenhagen, Berlin, Milan, Alicante, Amsterdam, Düsseldorf, Lyon, Salzburg, Warsaw, Vilnius, Zurich and Barcelona.
Moreover, WOW air has increased its weekly flights from London Gatwick to Reykjavík by 117 percent – from six to thirteen – for the summer travel period.
The twice-daily flights, which began on June 2nd 2013, depart from London at 12:15 and 20:40 on Sunday, Monday, Tuesday, Wednesday, Thursday and Friday; a daily flight is also offered on Saturdays.
"We're really excited to be increasing from six return flights to 13 return flights from London to Reykjavik. We aim to get as many intrepid travellers over to Iceland so they can experience the beauty and fun of the country," commented Svana Friðriksdóttir, Director of Communications at WOW air.