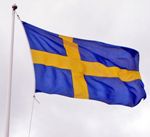 Sweden's migration board will not re-open the asylum application files for the  eight Afghan men participating in a hunger strike in Boden. The men say returning to their home country would be dangerous for them.
Ahmad Kahlil, the spokesperson for the eight men, announced the decision of the Migrationsverket during an interview with Norbottenskuriren (NK), a local newspaper for the northern Swedish community of Boden.
"We understand that people who are waiting for a ruling or who have had their asylum application denied are in a very difficult situation," Mikael Ribbenvik, the Migrationsverket operations director, said in an interview with the Local.
Ribbenvik also said, "It is important to understand that we have an asylum process in Sweden where the Migration Board's decision can be appealed in a regular Swedish court."
The Migrationsverket ruling has not stopped the men's hunger strike, which they began two weeks ago as a protest of their deportation orders. Three of the men were taken to hospital in critical condition on the 12th day of their hunger strike.
A Sveriges Radio (SR) report said about 15 Afghani men are now participating in hunger strikes in a residence for asylum seekers close to Umeå and in Boden. Some of the men are still awaiting their own Migrationsverket rulings, while others have already been denied asylum.