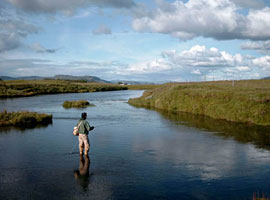 Iceland has been noted as being a unique destination for fly fishing holidays, due to the country's breathtaking clear lakes, alien landscapes, and abundance of fish, including Salmon, Trout and Arctic Char.
The country has had a long history as a fishing destination, where its popularity began in the early 19th Century when the gentry of the UK started to arrive and fish for salmon, primarily in the south and west areas of Iceland.
Iceland boasts crystal-clear rivers and breathtaking scenery, which adds to the unique experience of fishing in the country. In the summer months, fishing for Salmon, Sea Trout, Brown Trout and Arctic Char in the midnight sun is an unforgettable experience. Additionally, the country's landscape offers copious non-fishing activities for the whole family to enjoy.
With the Veiðikortið (The fishing card) anglers can fish in 37 lakes dotted around Iceland for a calendar year at a fee of 6000ISK, and can be used unlimitedly.
CampEasy, a popular campervan rental company in Iceland, is offering an intimate experience with the Icelandic countryside. With a campervan, travellers can quickly change locations to experience different fishing locations and areas of natural beauty.
Each campervan contains a bed, sink with running water, heating system, radio and CD player, kitchenware, and duvet. Additionally, a professional mechanic checks each van before the rental period begins.