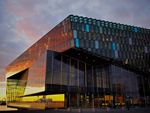 Fans of British prog-rock group Jethro Tull will again have a chance to see the flute playing maestro when his band performs in Iceland in June. Tickets go on sale on April 10th.
In honour of the fortieth anniversary of the release of their seminal album Aqualung, the band have been touring and appearing worldwide in selected appearances. Three dates have been scheduled in Iceland; appearing in Akureyri on June 7th, followed by a concert in the Westman Islands  on June 8th and finally at Harpa in Reykjavík on June 9th.
The concert will feature a 'best of selection' from their 45 year career with well known hits such as Aqualung, Thick as a brick and Locomotive breath, among others.
Jethro Tull have previously played in Iceland more than four time, most recently in 2012. But with the members, including founders Ian Anderson and Martin Barre, close to retirement this could be their last appearance.
In recent years the band has been replaced on tour by Martin Barre and his band while Anderson announced in 2012 that he planned to release Thick as a Brick 2, largely a solo album. The Iceland tour is part of a promotional tour.