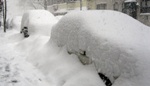 Ski centres across Finland are pleased to see cold winter conditions continue, as it has kept their slopes in peak condition for longer. The cold evening temperatures, alongside the bright sunny spells the country has been enjoying in the daytime, has increased the popularity of many Finnish ski slopes.
The unusually frigid spring weather, which has seen snow fall as far away as London, has been a welcome advantage for the ski businesses. For those who work in the winter sport industry, their livelihood is at the mercy of the weather, so they are generally voicing pleasure at this 2013/2013 season.
Janne Anderssin, soon to be CEO of the Riihivuori Ski Centre at Muurame, highlights the importance of the weather to the winter sports sector, "Every business sector has its own risks. For us, it is the weather. I've noticed that the weather report has become a part of my morning routine in quite a different way than before."
He adds, "Unfortunately often, the slopes are at their best at the same time as city streets are bare and dusty and people stop coming evenings and weekends. Usually, the best slope conditions are beginning at this very time."
With the Easter break approaching ski centres such as the Riihivuori Ski Centre, close to Jyväskylä, are hoping that the longer days combined with the persistent cold nights will make for a busy end to the season.