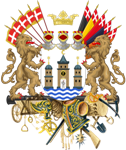 In a bid to deter men from urinating on the streets after a night of heavy drinking, the Copenhagen City council installed what look like giant white, plastic lilies but are really portable urinals in Strøget.
Largely a white, plastic funnel – this unit can be placed just above the city sewer so the urine is carried away.  "It's something we developed for the Distortion music festival to create an easy, simple solution to an urban problem that can be set up and taken down easily", said Claus Robl speaking to Politiken  newspaper. Robl heads the Center for Renhold – the division of the city's Technical and Environmental Department responsible for keeping clean the city's public areas
Last weekend's installation was a test to see if the urinals helped cut down on the offensive flow on a normal weekend. "These are not something that should be permanently standing in the streets," said Robl. "They can be put up as needed, and we want to find out where it makes the most sense to put them up", he told the newspaper.