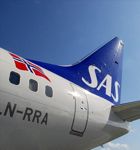 SAS Airlines has challenged Norway's ban on frequent flier programs. The news comes more than a decade after the measure went into force when Oslo sought to increase competition between airlines in the Nordic country, fearing that frequent flier schemes would ensure that business travellers would continue to choose then-dominant SAS over upstart Norwegian Air Shuttle.
But SAS has since sank to become the country's underdog against Norwegian Air and late last year was nearly forced into bankruptcy amid rising competition and costs.
Now, the carrier has challenged the Norwegian government – ironically its biggest shareholder – to sidestep the ban in order to fight back against Norwegian Air by luring the country's lucrative domestic business travellers to frequent traveller incentives, according to a Wall Street Journal report published on Wednesday 27 February.
Officials from SAS – a joint Danish-Swedish-Norwegian venture – announced the launch of the firm's new EuroBonus frequent-flier programme, which SAS lawyers say cannot be banned because it only available to business travellers and is therefore a business-to-business agreement.
Eivind Roald, marketing and sales head for SAS said in a statement, "It is important for us to be able to offer our entire package of rewards and offers," the Wall Street Journal reports.
Meanwhile, the move has since drawn fire from Norwegian Air. Spokeswoman Anne-Sissel Skanvik told the media on behalf of the carrier that EuroBonus "looks like a blatant violation of the law."