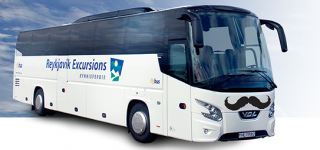 Iceland tour provider Reykjavik Excursions is supporting Mottumars, the Icelandic version of the men's cancer initiative Mustache March, by contributing an amount for every Flybus passenger that travels with them in March.
"We have been rethinking our position in the community and how we can help make a positive contribution. In October, we supported the breast cancer initiative Bleika Slaufan (Pink Ribbon) and we wanted to do the same for Mottumars," explained Þórarinn Þór, Reykjavik Excursions' Marketing Director.
Mustache March is an annual event whereby men grow mustaches for amusement in order to raise awareness of prostate cancer and other forms of male cancer, as well as to raise money for related charities.
Þórarinn continued, "For Bleika Slaufan, we painted one of our coaches pink to help raise awareness. This time we have decorated nine of our tour coaches with the Mottumars emblem – a large mustache – and we will be contributing a percentage of every ticket sold in airport transfer throughout the whole of March."