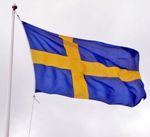 The mayor of Malmö is to step down after two decades as the Swedish city's top official. Social Democrat Ilmar Reepalu announced that he is to leave the role in July in order to shift his focus to his family life.
In a lengthily resignation letter published in the Sydsvenskan paper, Reepalu also addressed a number of issues seen during his career since being elected as mayor of Copenhagen's Swedish counterpart in 1994.
He expressed regret over recent comments that saw him labelled as an anti-Semite and prompted a visit from Hannah Rosenthal, an anti-Semitism specialist from the cabinet of US President Barack Obama.
He wrote in the letter, "Badly chosen phrases on my part were misinterpreted and twisted into deeply insulting statements about my beliefs," TheLocal.se reports.
Reeplalu's statement gave no indication that he intends to leave politics, but the 69-year-old said that by leaving his post as mayor it would allow him to spend time with his grandchild and would enable Malmö to elect a new leader, which he said the city needs.