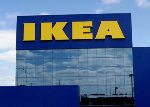 Ikea's founder has said that he was not told about much of the company's current expansion effort. The news comes via a rare personal interview with Ingvar Kamprad, in which the 86-year-old furniture entrepreneur said that he felt the brand's growth effort was too aggressive. He said that he had only learnt about the new ambitious strategy when his secretary read the comments of Ikea chief executive Mikael Ohlsson in an industry newspaper as the firm released its annual report.
He told the Expressen newspaper, "I spoke to my secretary, who told me about what was written in Dagens Industri; that we've had a record profit and record revenue and that we would build 25 new stores per year. We've talked about building 10 to 12 stores per year until 2020 and I don't know who released this information."
Mr Kamprad, who has not served as part of the company's management team for nearly two decades, noted that he had been in the dark about many of the new store launches: "I [had] no idea that an Ikea store would be built … in south Stockholm, I haven't heard that," Expressen reports.
Meanwhile, spokesperson Josefin Thorell said on behalf of the firm's management that the 25 new outlets had received the green light from the Ikea board. She added, "I don't know what's behind the misunderstanding. It may be that Ohlsson and Kamprad are talking about different time periods."