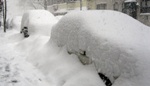 Temperatures are likely to drop even further below normal next month throughout the Nordic region, according experts from Weather Services International (WSI). WSI officials said that a high-pressure pattern is to persist over the arctic through to February, continually pushing frigid, dry air southward over Scandinavia, as well as toward Russia, the Baltic states and Britain.
The official WSI statement read, "All of the objective evidence suggests a very cold remainder of winter across the Nordic regions and northwestern Russia as atmospheric blocking re-emerges and allows for very cold Arctic high pressure and dry weather to persist over these areas, including the Scandinavia hydro basins."
It added, "We expect the lingering impacts of the atmospheric blocking to persist into at least March, with cold temperatures persisting across the Nordic regions."
However, WSI also revealed that temperatures are expected to climb above normal in April and May.
The news comes amid a prolonged period of frigid conditions in the region. Stockholm saw the mercury dip as low as -18°C in the last week, while several locations in Finland have set new record lows – some well below -30°C – in December and January.