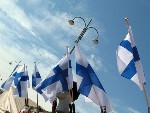 Finland's AAA credit rating has been upgraded to stable, officials from Standard & Poor's announced on 14 January.
The move comes a year after the country's rating was downgraded to AAA- as a result of residual effects on Finland's export-heavy economy amid Europe's ongoing economic crisis.
But S&P officials said on Monday that the region's threat of adverse impact on Finland had been "contained", allowing the Nordic nation to regain the superior AAAstable label. Additionally, the agency's statement said that Helsinki is working to maintain at least a one percent growth rate in the medium-term forecast, although it said that the country is likely to see growth of only 0.5 percent over the next 12 months.
The statement read, "The outlook revision reflects our view that the risks to Finland's financial, economic and policymaking environment emanating from the eurozone crisis have remained contained, and we expect that this will continue to be the case throughout 2013," the AFP reports.
In addition to Finland, S&P announced Monday that Luxembourg's status was to be upgraded to stable, making the two nations the only economies in Europe with the top credit status.