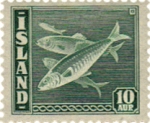 Scottish fishing figureheads have accused Iceland and the Faroe Islands of "mugging" them of their product. The news comes as Iceland continues to defend taking increasingly large shares of mackerel from the North Atlantic. Last week saw the country's minister of industries and innovation, Steingrímur Sigfússon, issue a statement to European leaders, arguing that the catch is justified as larger amounts of the fish continue to show up in Icelandic waters.
He also said that sanctions would not solve the problem and that the country's requests for a scientific approach to sustainable fishing have been repeatedly ignored.
However, industry bosses in Scotland have since backed the threat of EU sanctions and have equated Iceland's actions to theft. Meanwhile, many experts say the ordeal is the beginning of a second 'Cod War', as seen in the region in the 1970s.
Bertie Armstrong said on behalf of the Scottish Fishermen's Federation, "This is a mugging and our skippers are extremely angry. Iceland [is] acting like a burglar that does not have the inconvenience of a police force," The Daily Record reported last week.
Similarly, Scottish Pelagic Fishermen's Association head Ian Gatt said in a statement, "It is vital that the mackerel fishery is managed under an international agreement so as to ensure a sustainable future. This is what Scotland wants, as well as the rest of the EU and Norway."
He added, "At the moment, Iceland is holding the mackerel stock to ransom for its own advantage and without any due concern to the health of the stock or the other nations that have traditionally participated in the fishery."