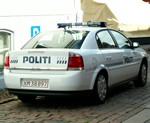 Danish police have issued a formal apology for carrying out immigration checks at a church frequented by African migrants living in the country's capital.
Copenhagen Police inspector Jan Bjørn said in an official statement, "We apologise that we carried out an action against a church. A church is a special place and it is not a place for carrying out routine controls," the Kristeligt Dagblad news agency reports.
The apology comes in response to criticism of a police visit to the Redeemed Christian Church of God in Amager on 30 December, when churchgoers reported that officers "aggressively" checked documents and even blocked the doorways to the building.
The police have since drawn fire from immigrant advocacy organisations.
Hans Henrik Lund said on behalf of the pro-integration campaign group, Kirkernes Integrations Tjeneste, "If it is a routine check where you are looking for illegal individuals, it is completely out of proportion to interrupt a church service. When you consider that many of the churchgoers are refugees, it could have been a very traumatic experience for them. It signifies a lack of respect for our new Danish residents," the Copenhagen post reports.
However, police officials defended the move to some extent by saying that investigations had frequently led to the church and that the raid did not take place during a religious ceremony per-se.
Police commissioner Kjeld Farcinsen noted in an interview with BT reporters, "There wasn't a prayer service going on when our people entered the location. Clearly, if there had been a service going on we would have never carried out the action. We would have waited patiently. We don't carry out actions during church activities."