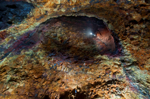 After becoming one of 2012's most popular new tourist attractions, tours to the Thrihnukagigur volcano in Iceland have been confirmed again for 2013, starting on 15th May. This unique tour, titled 'Inside the Volcano', gives visitors the opportunity to see what a volcano looks like from the inside of its magma chamber.
The tour takes visitors to the dormant Thrihnukagigur Volcano, about 30km/20miles from Reykjavík, Iceland's capital. It's the only place on earth where a huge volcanic magma chamber is accessible and currently safe to explore.
The size and scope of the volcanic chamber is enormous. The vault is bottle-shaped and its ground space is equivalent to almost three full-size basketball courts. The distance from top to bottom is about 120m/400ft – an opening that could easily fit the Statue of Liberty.
The current tour is one of a kind, as participants descend through the top crater, all the way down to the bottom of the magma chamber, accompanied by experienced and specially trained guides. An open elevator system carries participants up and down the chamber in a cable lift. All equipment and processes have been extensively tested and approved by the administration of Occupational Safety and Health in Iceland.
Scheduled tours into the volcano were first offered for a limited time during the summer of 2012. The tour was hugely popular with travellers and received great reviews, including TripAdvisor users.
The tour will run from 15th May – 10th September, with several confirmed departures each day.
For more information about the Thrihnukagigur volcano tour in Iceland, visit http://www.insidethevolcano.com.