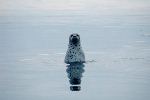 An American researcher has sought the help of some Greenland 'locals' to obtain crucial data for a study on sea level changes. David Holland, from the Courant Institute of Mathematical Sciences at New York University, is to use ringed seals to extract information from depths of 500 metres below the ice.
Holland has conducted much global warming-related researched in the North Atlantic nation. However, it is virtually impossible for humans to collect certain data in such harsh conditions.
As such, Holland and officials from the Greenland Department of Natural Resources have fitted a few ringed seals with small electronic devices for a brief scientific mission. The units provide extensive insight into water temperatures, pressures and salinity, as well as the location of the measurement.
Holland told the media, "Seals are a natural choice in these harsh conditions, and they are unharmed. It takes less than 15 minutes to secure the device, after which point the seal returns to the ocean. When the animal naturally sheds its outer coat, the transmitter simply falls off," PlanetSave.com reports.
The team has tagged three seals over the course of 2012, and Holland said that he will find new specimens for further endeavours in 2013.
He added, "It's really quite astonishing to get these data, because the animals are going places that we as researchers find extremely difficult to reach due to heavy ice cover and large icebergs."