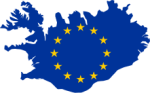 Iceland's efforts to join the European Union have taken another step forward, despite the continuing opposition of many Icelanders.
Tuesday 18th December saw split opinions in the country's government, as the reigning coalition's entry talks advanced significantly in Brussels. Just hours later, however, a parliamentary committee in Reykjavik moved to side track the process. Iceland has so far completed 11 policy points and has opened negotiations on 27 of the 35 total areas required for membership.
The efforts come amid the impressive economic recovery of the North Atlantic nation in the wake of its 2008 banking collapse. The rebound appears to be having a substantial effect on Iceland's voters, particularly as Europe's woes prove resilient. Recent polls now show that more than half of Icelanders now favour withdrawing the country's bid for EU membership.
Iceland's foreign minister Ossur Skarphedinsson told reporters on Tuesday that the prospect of refraining from further negotiations prior to the April 2013 elections remains on the table. He said, "What I think is correct for Iceland to do now is consolidate what we have achieved so far," the Pittsburgh Post-Gazette reports.
Experts note that the country's next government may push hard to abandon EU membership, as the two major opposition parties support anti-EU policies. EU proponent Prime Minister Johanna Sigurdardottir will also not run in April.