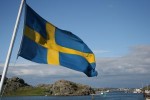 Activists took part in a nude protest in front of the Egyptian embassy in the Swedish capital on Thursday 20th December.
Feminist Aliaa al-Mahdy and two other females from the group Femen braved the cold winter temperatures the day before Egypt's government was expected to adopt a referendum on the country's newly approved draft constitution.
The document has drawn fire from thousands of Egyptians inside and outside the country. Many say that it had been written and adopted too quickly, whilst al-Mahdy and Femen have labelled it a "sharia-dictatorial".
During the protest in Sweden, Egyptian native al-Mahdy held a Koran in front of her crotch and wrote "sharia is not a constitution" across her body. Likewise, the other two women covered their privates with the Bible and the Torah, and displayed similar slogans, such as "apocalypse by Morsi [the new Egyptian president]".
Femen has become known for using nudity in demonstrations over the last several years. The group staged a protest at a German Ikea store in October after the Swedish company opted to remove all women from the latest version of its Saudi Arabian catalogue.