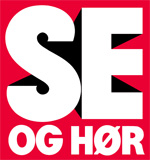 Danish tabloid Se og Hør has been ordered to compensate a former national politician who it made false claims about. 
The newspaper reported that Naser Khader – the first ever immigrant MP in the Scandinavian country – paid for 'under the table' home improvements while bidding for a Ny Alliance party seat in the 2007 election.
A City Court judge said on Tuesday (27 December) that Se og Hør had no proof of the claims and that the journalist and the paper's editor-in-chief must pay Khader DKK 25,000 (EUR 3,350) in compensation.
Khader said in a statement, "This is a clear victory. It means a lot because this really was an issue that hurt me," the Copenhagen Post reports.
The Syrian-born Dane's time in national politics ended last year when his party took a massive hit in national elections; he now works for American conservative think tank The Hudson Institute.