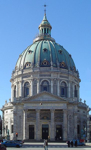 Despite the usual crowds expected at Christmas Mass, Denmark's state church has seen a substantial number of members leave over the past year.
According to a Copenhagen Post report issued at the weekend, the Church of Denmark (Folkekirken) lost around 17,000 members in the nine months leading up to October 2012, and the year-end figure is likely to top 20,000.
Although the debate on the primary reason for shrinking membership remains unresolved, experts say that the economic crisis and the dividing issue of gay marriage have both had a significant impact. In addition, most feel that the general population is slowly drifting towards a desire to be less affiliated with religious groups on the whole.
According to Per Stig Møller, a former church minister, the blame lies almost exclusively on current Church Minister Manu Sareen for giving the nod to gay marriages in the Church of Denmark. Møller says that he firmly believes that the change caused a number of members to leave. Instead of marriage, he says gays should have been granted the right to have slightly different "life companion" ceremonies in the church.
Meanwhile, some claim that the decline is overly sensationalised by the media and that the issue receives far more attention than it deserves.
Reverend Charlotte Chammon from Nørre Herlev parish church told reporters from the Copenhagen Post, "I read an article a while ago that said church membership had fallen from 80 per cent of the population to 78 per cent – that doesn't strike me as the 'dramatic decrease' that the media is reporting. I have not seen a steep decrease in membership in my parish – less than 10 out of 2,000 members have left this year, and only two said it was due to gay marriage."