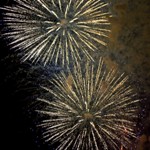 Leading Icelandic Telecommunications Company, Mila, is launching a new website today, which will be broadcasting the 2012/2013 New Year's Eve celebrations as it happens, live from Iceland.
This new website will allow viewers from around the world to watch how the locals celebrate New Year's Eve.
At the stroke of midnight, Iceland's capital, Reykjavík, night turns to day when hundreds of fireworks illuminate the city's skyline. Viewers will get to experience the exploding rockets and dancing lights sparkle and shimmer as it happens.
Mila also maintains other incredible webcams, which are widespread across Iceland, and can all be viewed live 24/7 via its website. These webcam locations include the Blue Lagoon, Jökulsárlón, Akureyri and Austurvöllur in Reykjavík.
The New Year's Eve live feed will also be streamed on the Iceland Naturally website, in cooperation with Mila, via http://www.icelandnaturally.com/about/this-just-in/nr/874.
Furthermore, Mila is also hosting a spectacular Northern Lights webcam, giving viewers a chance to capture the magic of the Auroras live from the comfort of their home.
To watch the celebrations on New Year's Eve, live from Iceland, visit http://www.livefromiceland.is/webcams/new-years/.