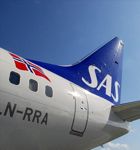 The struggling flag carrier for Denmark, Norway and Sweden has seen an encouraging boost in recent passenger numbers, according to new figures.
SAS, which narrowly avoided total collapse just weeks ago following extended negotiations with labour unions, has seen better growth this year than its regional competitors, according to a new report from the Association of European Airlines.
In recent months, the firm has seen an upturn in passenger numbers, at the same time as many major airlines elsewhere in Europe continue to feel the substantial negative effects of the continent's financial crisis.
The report said that SAS passenger totals have grown by 6.5 percent so far in 2012, compared to an average growth of 4.6 percent for other European airlines.
However, he added, "It's positive that SAS has managed to increase traffic despite the company's great challenges and the several weeks of uncertainty over its future. But SAS still needs to prove that it can earn money."Sydbank analyst Jacob Pedersen told reporters from the Jyllands-Posten newspaper, "SAS's advantage is that the company operates mostly in the part of Europe least affected by the economic crisis. The Nordic region and Northern Europe have not been as affected by the debt crisis as Southern Europe, where airlines have been having a harder time."