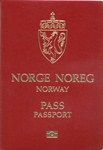 Norwegians have been left out of a new programme that will allow many foreigners to enter Beijing without a visa. Under the new rules announced this week, passport holders from more than 45 countries, including Japan, the United States, Russia, Australia and all 27 member-states of the European Union, will be able to visit the city of Beijing for up to 72 hours without a visa.
Officials said the change is essential for business travellers attending meetings and conventions. It is hoped that it will also boost local tourism as more visitors are temped by extended layovers or weekend breaks in the Chinese capital.
However, Norwegians were somewhat unsurprisingly left out of the deal. Many suspect the omission is a result of Beijing's ongoing discontent with Oslo after the 2011 Nobel literary prize was awarded to Chinese political activist Liu Xiabao.
Since the event, the two countries have had almost no diplomatic contact, despite the fact that he Nobel committee is officially separate from , although still affiliated with, the Norwegian government.