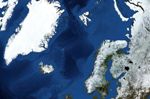 Scandinavia remains among world's least-corrupt regions, according to the 2012 Corruption Perception Index. The news comes via Berlin-based Transparency International, whose latest annual corruption report placed Denmark and Finland tied with New Zealand in the top spot, with all three countries scoring a rating of 90 percent.
Similarly, Sweden managed to earn an 88 percent rating for fourth place, narrowly beating Singapore, which rounded out the top five.
For the Swedish government, the news comes as a relief amid rising concerns regarding funding for political parties.
Transparency International's head in Sweden, Ann Wilkens, told the media, "The continued high ranking doesn't mean that Sweden is free of corruption. Municipalities and county councils have proven to be especially vulnerable – among other things, there are shortcomings in how the rules for public procurement are followed," TheLocal.se reports.
Meanwhile, the US just managed to remain in the top 20 by grabbing 19th place, whilst France was ranked 22nd and the UK and Japan tied for 17th place. In Contrast, North Korea, Afghanistan and Somalia tied in last place, with each of the three countries earning a score of just eight per cent.