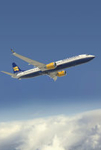 It has been announced that a commitment to purchase a total of 12 737 MAX 8 and 737MAX 9 aircraft has been signed between Icelandair Group and Boeing.
According to Icelandair Group, the commitment is for 8 737 MAX 8 aircraft that can hold 153 passengers, and 4 737 MAX 9 aircraft that can hold a total of 172 passengers – this new variant of the Boeing 737 aircraft is scheduled for delivery to Icelandair in early 2018.
Boeing 737 MAX is a new, improved and longer reaching version of the present Boeing 737. As the 737 Max incorporates new engines to deliver efficiency, the fuel-use improvement will increase by 13 percent per seat. This fuel saving, compared to Icelandair present's fleet of Boeing 757, is more than 20 percent per seat.
Boeing states that its 737, with the addition of the new aircraft, will continue to be Icelandair's future aircraft as it suits the carrier's North Atlantic network, reaching both Europe and North America perfectly. The new aircraft will be a great addition to the fleet and increase flexibility and capability for growth. The 737 Max can reach destinations on both sides of the Atlantic and gives Icelandair new options for added frequency and destinations, especially in winter to even out seasonality.
Icelandair Group President and CEO, Björgólfur Jóhannsson explains, "This commitment is the result of our research into what aircraft manufacturers have on offer to help us strengthen and grow our fleet and our network towards the future. We have had a successful relationship with Boeing for decades and we are pleased to continue our cooperation for years to come."
For more information regarding this commitment between Icelandair Group and Boeing, visit http://www.icelandair.co.uk/information/media/newslist/detail/item656359/icelandair_and_boeing_commit_to_new_aircraft_/.