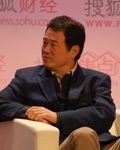 A Chinese tycoon with plans to build a major tourist resort in rural Iceland must re-submit his application to authorities in Reykjavik before the project can move forward. According to reports, Icelandic cabinet members remain undecided about whether Huang Nubo's controversial effort to build a luxury hotel and golf course in the remote northeastern part of the country should go ahead.
The government has asked Huang – who is among the top 200 richest people in China, according to a report in Forbes 2010 – to resubmit the entire application for a fresh review by a committee in Reykjavik.
According to industry minister Steingrimur Sigfusson, who has handled the application so far, the initial proposal by Huang's Beijing-based Zhongkun Investment Group was missing essential details. The firm asked authorities last month for more time to provide additional information, according to the RUV news agency.
The plan has drawn heavy fire from numerous Icelandic groups; some claim that allowing the ISK 20 billion (EUR 122 million) investment to move forward could compromise the island nation's security due to the remoteness and abundance of resources near the proposed location.
However, Huang has already signed a lease agreement to utilise nearly 70 percent of a 300-square-kilometre farm for his project.