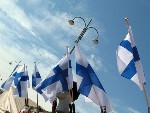 Finland is a strong contender to host a new LNG (liquid natural gas) terminal, a European Commission-backed report has said. The news comes amid efforts to provide a fresh supply of LNG to states in the region in order to reduce longstanding dependency on Russia. European officials called on Booz & Company to carry out the study; its purpose was to determine the best location for the facility after Latvia, Lithuania and Estonia failed to reach an agreement.
Officials said in the document, "It [a Finnish terminal] would bring the same benefits as a LNG terminal located in Estonia, both in terms of supply diversification and security of supply. Furthermore, a LNG terminal in Finland has the advantage [of being] closer to the centre of biggest gas consumer in the region, namely Finland," Reuters reports.
Booz & Company said that Paldiski, a port in Estonia, remains the second-best option, as the cost of connecting the LNG flow to the region's gas grid would be low.
The four Baltic countries consume a combined total of about 10 billion cubic metres of gas per annum, with Finland using around 50 percent of this.