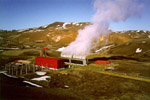 A report has claimed that heating British homes with geothermal energy from Icelandic volcanoes is a very plausible concept.
Experts told reporters from The Daily Telegraph that the UK government is seeking to pipe Iceland's geothermal energy across the North Atlantic and to the UK. The effort would entail the construction of the most extensive seabed power cable in the world, although the costs would be similar to those required for new developments in nuclear energy, according to the report.
Hörður Arnarson, head officer for the effort, which is spearheaded by Iceland's state-backed power firm Landsvirkjun, told the news agency, "This is a technically challenging project, there's no doubt, but there is no doubt in our mind that it is doable. Both the length and the depth [of the cable needed] has been tested."
He went on to say, "All our energy production is renewable, with hydro and geothermal production. On top of that, we are producing by far the most electricity per capita- we are producing five times more electricity than a country with this population usually needs."
According to reports, London has already agreed to a memorandum of understanding regarding the effort.
The news comes several months after the UK's energy minister Charles Hendry travelled to Reykjavik to meet with Icelandic officials in the energy trade.