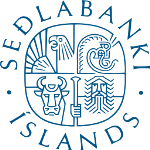 Iceland's central bank has opted to raise the country's primary interest rate by 0.25 percent. Officials from Sedlabanki said that the move comes amid growing optimism for 2013, as analysts say the island nation's economy will grow faster than previously expected. In addition, inflation is likely to grow more slowly than the bank predicated as a result of ongoing uncertainty about the exchange rate, according to the Sedlabanki Monetary Bulletin.
The Bulletin said, "As spare capacity disappears from the economy, it is necessary that monetary policy slack should disappear as well. The degree to which such normalisation takes place through higher nominal Central Bank rates will depend on future inflation developments," RTT News reports.
The move saw the seven-day collateralised rate for lending lifted to six percent, while the account rate was extended to five percent. Likewise, the overnight rate was increased to seven percent, while the maximum for 28-day certificates of deposit was lifted to 5.75 percent.
Meanwhile, the Bulletin also said that the GDP growth forecast for Iceland would be adjusted to 2.5 percent for 2012 from the previous figure of three percent published in August. However, the bank added that the economy would gather substantial momentum next year and into 2014.