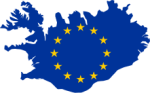 A newly published poll has shown that most of Icelanders want to back out of the country's bid to become part of the European Union.
The survey, conducted by Capacent Gallup, revealed that 53.5 percent of Iceland's voters no longer support the bid. In contrast, only 36.4 percent said that the island nation should proceed with the project, whilst 9.9 percent remain undecided on the issue. The research firm did not publish a margin of error.
The news comes more than two years after Reykjavik began accession negotiations with European officials; Iceland has now completed 10 of 35 negotiating chapters for the move and has opened a further 11.
However, the EU's enlargement commissioner Stefan Fule has said that the North Atlantic country still faces a number of challenges in the bid, notably in regards to fisheries, agriculture and environmental issues.
Officials from Capacent Gallup said that the survey was carried out from September to October this year.