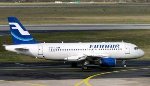 Finnair has installed new self-service check-in machines at Helsinki Airport, as the airline moves forward with plans to employ fewer agents.
Earlier in the year, the flag carrier issued a statement saying that those flying on itineraries solely within its domestic network would no longer be able to check in at conventional check-in desks.
Reports say that up to 25 of the company's ground agents are to be cut, while a further 30 employees will be shifted from full-time to part-time roles as the carrier begins to implement the cost-cutting measures. Finnair officials are currently amid negotiations with dozens of employees; around 250 workers in total will be affected by the move, according to a report issued on Friday (9 November) by the YLE news agency.
The check-in kiosks are just one of numerous changes involved in the airline's current cost-cutting scheme, which the firm hopes will save it EUR 140 million by 2015.
The news comes after Finnair announced on Thursday (8 November) that it was to begin stocking its long-haul aircraft with designer cutlery from renowned Helsinki-based design firm Marimekko. To celebrate the partnership, the carrier has rebranded one of its aircraft with a sleek Marimekko design and will unveil a second with a similar paint job early next year.