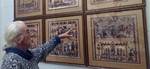 Much loved Icelandic artist Haukur Halldórsson is set to auction off his entire collection of paintings and mixed-media work at his workshop in Straumur, on the outskirts of Reykjavík. After the auction in finished, Halldórsson will be closing his workshop for good in order to relocate to Berlin, where he'll be opening up a new studio to house his projects.
As part of the auction, visitors to his workshop can bid on any item in his collection of Icelandic and Nordic mythology artwork, and agree with the artist directly on what price to pay.
Halldórsson is a renowned artist who has explored the theme of Icelandic folklore, Celtic and Nordic mythology, where he has made hundreds of illustrations, paintings, sculptures, and mixed-media pieces.
Halldórsson has travelled widely to examine art, visiting China, the United States, and various countries across Europe. In New Mexico, he encountered the Navajo Indians and observed the art of sand-casting, which he later applied to his own practices.
His selection of works between 1989 and 2001 combine elements from the worlds of fantasy, mythology and everyday life experiences. His paintings often contain mysterious magical characters, fire-spewing primeval titans, sections of peculiar structures, living skulls, and Viking ships in strange surroundings.
Amongst other works, his most notable is the 'Arctic Henge' located on the plains of Melrakkaslétta near Raufarhöfn, the most northern town in Iceland, situated right below the Arctic Circle.
The 'Arctic Henge' is a stone calendar of the seasons based on the paths of the sun and the moon. It is a circular stone square reaching 48 meters in width. Located in the middle is a stone structure with a crystal on the top that captures the rays of the sun and breaks it into prism colours. On the outer wall, there are four gates facing each direction, marking the solstices of winter and summer, and the equinox of spring and autumn according to the old Norse calendar.
The unique location has a full circular horizon on land so nothing can hinder the sun- and the moonlight. All sunrises and sunsets can be seen if there is no cloud cover; however, the sun does not set during the high summer months and is rarely visible during the winter months.
Those who are interested in purchasing his work are urged to visit Halldórsson at his workshop in Straumur just outside Reykjavík – the auction ends 15th December 2012.
To find out more about Haukur Halldórsson's work, visit http://www.vikingcircle.com/.