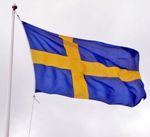 Immigration authorities in Sweden are to deport a seriously ill five-year-old. The child, who emigrated from Azerbaijan to the Scandinavian country with her parents in 2010 for political refuge, is in a life-threatening condition, according to the family's lawyer, Ferec Serce.
Authorities from the Migration Board say the family's documentation is insufficient and that the child's illness does not provide ample grounds to extend their stay.
Five-year-old Gunesh Ekberova is epileptic and has been diagnosed with autism and an intellectual disability, according to a report by the Göteborg Daily. She is said to struggle with numerous basic tasks, including eating, speaking and sleeping. During her time in Sweden, she has apparently suffered more than 30 seizure attacks that required hospitalisation.
The girl's mother Khayla Ekberova told the Borås Tidning newspaper, "There has been some improvement. She gets fewer cramps, but the doctors are not convinced. If Gunesh doesn't receive the care she needs, she can die. I'm worried, I can't sleep. I can't do anything."
The family says that some of the medicine the girl requires is not available in Azerbaijan.
Mr Serce told the paper, "It would be life threatening to send the girl back. It is very important that the public is informed about what's going on. In my opinion, the girl should receive a residence permit and then the parents would get to stay as well."