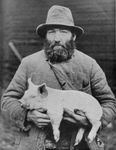 Swedes are being warned by the country's food authority that some 20 tonnes of dyed pork has been sold as beef.
Officials from the National Food Agency told reporters that the meat, which comes from Hungarian producer Filetto, appears to have been injected with pink dye to give it the appearance of red meat.
According to a BBC report, the product, which has been on sale in Swedish markets for nearly a year, was brought into the country via Heat AB, an importer based in Helsingborg.
Pontus Elvingson said on behalf of the Food Agency that the investigation was ongoing and that his organisation was working with EU authorities to find out if the product has been distributed to other countries in the region.
Speaking about the meat's distribution in Sweden, he said, "it's difficult to tell how much there is and we don't know if it has all been sold." He added that, "There is no indication that Heat AB sent any of the meat abroad."
The investigation follows a tip-off from Örebro-based wholesale firm Svensk Cater.
Ake Hultberg, managing director of Heat AB, told Reuters, "When we received the product, I looked at it, I opened a box and took a sample, which I myself fried and looked at it. And there was no problem with it, but when it later came to Svensk Cater, there were fillets that were not beef but pork."