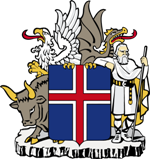 Citizens of Iceland voted on Saturday on a constitutional referendum largely influenced by opinions solicited on the internet.
The unprecedented move has provided the basis for long-sought changes to the Icelandic constitution, which dates back to 1944 when the North Atlantic island declared official independence from Denmark.
The ballot consisted of six questions on subjects ranging from the national church to the management of country's natural resources. Officials said that all of the questions came thanks to opinions submitted by ordinary citizens, mainly via Twitter and Facebook, to a special constitutional committee.
Prime Minister Johanna Sigurdardottir said in a statement, "The proposals of the constitutional committee are major improvements in the form of the country's government. Should we make these proposals the basis of a new constitution? My answer is yes," the Althing news agency reports.
Meanwhile, the DY newspaper declared, "This weekend's election seeks above all to make society better and to eliminate the forces of corruption from it. The constitution is everybody's business and should be written in each person's terms."
The move follows a preliminary version of a revised Icelandic constitution submitted by lawmakers last year. Efforts to revamp the document were kick-started by the country's banking crash in 2008, which prompted an unprecedented social movement among the country's population.