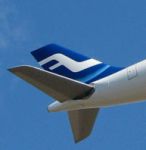 Finland's flag carrier has commissioned low-cost firm Flybe Nordic to begin operating some of its regional routes. Finnair currently holds a 40 percent stake in Flybe Nordic.
The new deal between the two airlines will see the budget carrier utilise a fleet of 12 Embrear E190 jets on a number of Finnair's European routes beginning on 28 October.
Staff for the new routes will be drawn from the firm's existing Flybe Finland operation, which currently owns 28 aircraft based in the Nordic country.
Finnair's chief executive Mika Vehvilainen told the media, "Flybe offers a cost efficient platform for operating this traffic. This agreement enables us to continue to offer a wide network and multiple frequencies to both our Finnish customers and our customers flying between Europe and Finnair's Asian destinations," UK-based news agency The Telegraph reports.
Similarly, Flybe Europe's managing director Mike Rutter said in a statement, "When Flybe expanded into the Baltic and Nordic regions in 2011 we did so because we identified exciting opportunities for growth in a marketplace [that] suited our proven business model well. Today's announcement marks another significant step in that journey, increasing our presence in the region and taking the number of aircraft we have on contract flying arrangements with Finnair to 21."
Finally, Flybe Group chairman and chief executive Jim French added, "Today's announcement marks another major step in the successful development of the Flybe Nordic business. This extension of our existing contract flying operations for Finnair is a key part of Flybe Nordic's strategy, adding substantial scale while balancing Flybe Group's overall risk. With this deal, 25 percent of the fleet under Flybe Group's management will be deployed under contract flying arrangements. We believe there are many more similar opportunities to develop this side of the business," he said.