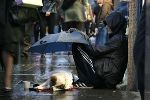 Finland's parliament has taken part in an initial debate on a new proposal to ban begging in the Nordic country.
Recently tabled by Finn Party ministers Tom Packalén, Olli Immonen and Jussi Halla-aho, the legislation seeks to change national laws so that begging in public places is a banned practice resulting in fines for those that are caught.
The initiative has also been backed by MPs from the National Coalition Party, the Centre Party and the Swedish People's Party. Begging is currently only illegal under Finnish laws if it causes a 'public disturbance'.
Proponents of the measure have said that enabling beggars provides no relief to poverty and may further encourage discrimination of impoverished groups such as the Roma. Others claim that begging is linked to criminal activity.
MP Tom Packalén said during the debate: "They [beggars] could start by putting their children in school instead of having them here begging." Similarly, Olli Immonen said, "We aren't denying poverty. We are taking issue with trade in humans, exploitation, and the begging phenomenon," Helsingin Sanomat reports.
However, numerous MPs from several parties argue that making begging a crime will do little to resolve the situation.
Left Alliance MP Annika Lapintie said, "We need to confront the reasons that lie in the background of poverty. Banning the activity will not eliminate the reasons."
Likewise, Centre MP Aila Paloniemi argued, "We have an obligation to help people who are suffering, also the Roma, and it will not be helped by criminalising poverty."